Christine E. Beattie , Ph.D.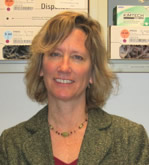 Professor
The Ohio State University
Department of Neuroscience
190 Rightmire Hall
1060 Carmack Rd
Columbus, Ohio 43210
Phone: (614) 292-5113
Fax: (614) 292-5379
Email: beattie.24@osu.edu
Education & Training:
Case Western Reserve University, 1987 B.S. in Biochemistry,
Case Western Reserve University, 1992 Ph.D.
University of Oregon, Eugene, 1992-1997 Postdoctoral Fellow
Research Interest:
Our goal is to understand motoneuron development and function in the context of motoneuron diseases. We focus on two diseases, spinal muscular atrophy (SMA), an infant/childhood onset motoneuron disease and amyotrophic lateral sclerosis (ALS) and adult onset disease. We use zebrafish as a vertebrate model organism due to its well characterized nervous system and its relatively simple neuromuscular organization. We have generated genetic models of these diseases in zebrafish and are applying genetics, cell biology and electrophysiology to understand differences between wild-type motoneurons and motoneurons in these disease models.

SMA is an infant/childhood onset motoneuron disease. We have found that when the protein linked to this disease, survival motor neuron protein (SMN), is decreased motoneurons exhibit aberrant axonal development, decreased axonal actin dynamics, and decreased dendrites. Our goal now is to identify why this is and what genes downstream of SMN are involved. This will lend insight into the normal processes of motoneuron development and the function of this disease gene in the process.

ALS is an adult onset disease. However, we are very interested in understanding the earliest changes that occur in motoneurons in this disease. Our hypothesis is that changes occur early in the spinal cord and that over time these changes damage the cell to the point where it cannot function. We will test this hypothesis using a combination of electrophysiology, RNA expression analysis and in vivo calcium imaging. Knowledge of these early changes will not only define a mechanism of toxicity but will reveal in vivo biomarkers. In future work, these biomarkers can be used to design high throughput screens in zebrafish larvae to aid in drug development and testing.
Selected Publications:
McWhorter, M. L., Monani, U.R., Burghes, A. H. M. and Beattie, C. E. (2003) Knock-down of the Survival Motoneuron protein (Smn) in zebrafish causes defects in motor axon outgrowth and pathfinding. The Journal of Cell Biology 162: 919-931.
Carrel, T. L., McWhorter, M. L., Workman, E. Zhang, H., Wolstencroft, E. C., Lorson, C., Bassell, G., Burghes, A. H. M., and Beattie, C. E.(2006) SMN function in motor axons is independent of functions required for snRNP biogenesis. Journal of Neuroscience 26: 11014-11022.
Highlighted in This Week in the Journal
Beattie, C. E., Carrel, T. L, and McWhorter, M. L. (2007) Fishing for a Mechanism: Using Zebrafish to Understand Spinal Muscular Atrophy. Journal of Child Neurology 22: 995-1003.
McWhorter, M. L., Boon, K., Horan, E. S., Burghes, A. H. M., and Beattie, C. E. (2008)The SMN complex protein Gemin2 is not involved in zebrafish motor axon outgrowth. Developmental Neurobiology: 68:182-94
Oprea, G. E., Kröber, S., McWhorter, M. L., Rossoll, W., Müller, S. Krawczak, M., Bassell, G. J., Beattie, C. E. and Wirth, B. Plastin 3 is a Protective Modifier of Autosomal Recessive Spinal Muscular Atrophy (2008) Science: 320(5875):524-7.
Lotti F, Imlach WL, Saieva L, Beck ES, Hao le T, Li DK, Jiao W, Mentis GZ, Beattie CE, McCabe BD, Pellizzoni L. (2012) An SMN-Dependent U12 Splicing Event Essential for Motor Circuit Function. Cell 151(2):440-54.