Kevin D Foust, Ph.D.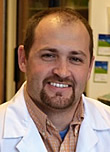 Assistant Professor
The Ohio State University
Department of Neuroscience
460 W 12th Ave
Biomedical Research Tower 698
Columbus, Ohio 43210
Phone: (614) 293-4269
Email: kevin.foust@osumc.edu
Education & Training:
University of Florida (2001) BS in Biochemistry
University of Florida (2007) PhD in Genetics
Nationwide Children's Hospital (2011) Postdoctoral Fellow
Research Interest:
Our laboratory is interested in understanding the mechanisms and developing treatments for the neuromuscular diseases Spinal Muscular Atrophy (SMA) and Amyotrophic Lateral Sclerosis (ALS).
Besides skeletal muscle weakness, 50-70% of type I SMA patients suffer from gastrointestinal motility symptoms including gastroparesis, gastroesophageal reflux and constipation. These gastrointestinal (GI) motility disorders could be caused by defects in neuromuscular transmission in the enteric nervous system (ENS), which is the intrinsic nervous system of the gut. However, the confounding issue of paralysis has prevented a thorough examination of GI dysfunction in SMA patients. We are utilizing novel genetic and viral approaches to model SMA to better understand the role of survival motor neuron (SMN), the gene implicated in SMA, in neuromuscular signaling in the gut.
Our lab uses adeno-associated viruses to develop therapies for neuromuscular diseases. In our current work, we use AAV9 to deliver RNAi to knockdown the mutant SOD1 gene in mouse models of ALS. This approach has shown dramatic slowing of disease progression when delivered at onset. Future plans include clinical development of this knockdown approach. In addition we are also exploring genes that can be paired with the SOD knockdown to further augment the profound survival effect of RNAi treatment alone.
Finally, our lab is exploring novel AAV serotypes to improve transduction efficiency within the CNS. Increasing transduction efficiency is crucial for therapy development to maximize efficacy, reduce viral load, limit potential immune responses and minimize viral production costs.
Selected Publications:
Foust KD, Nurre E, Montgomery CL, Hernandez A, Chan CM, Kaspar BK (2009) Intravascular AAV9 preferentially targets neonatal neurons and adult astrocytes. Nature biotechnology 27:59-65.
Foust KD, Wang X, McGovern VL, Braun L, Bevan AK, Haidet AM, Le TT, Morales PR, Rich MM, Burghes AH, Kaspar BK (2010) Rescue of the spinal muscular atrophy phenotype in a mouse model by early postnatal delivery of SMN. Nature biotechnology 28:271-274.
Haidet-Phillips AM, Hester ME, Miranda CJ, Meyer K, Braun L, Frakes A, Song S, Likhite S, Murtha MJ, Foust KD, Rao M, Eagle A, Kammesheidt A, Christensen A, Mendell JR, Burghes AH, Kaspar BK. Astrocytes from familial and sporadic ALS patients are toxic to motor neurons.
Nat Biotechnol. 2011 Aug 10;29(9):824-8
Bevan AK, Duque S, Foust KD, Morales PR, Braun L, Schmelzer L, Chan CM, McCrate M, Chicoine LG, Coley BD, Porensky PN, Kolb SJ, Mendell JR, Burghes AH, Kaspar BK. Systemic gene delivery in large species for targeting spinal cord, brain, and peripheral tissues for pediatric disorders.
Mol Ther. 2011 Nov;19(11):1971-80.