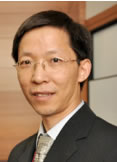 Renzhi Han, Ph.D.
Associate Professor
The Ohio State University Medical Center
460 W. 12th Avenue
Biomedical Research Tower, 316
Columbus, OH 43210
Phone: (614) 685-9214
Email: renzhi.han@osumc.edu
Education & Training:
Peking University, Beijing, China 1998 B.S. in Physiology and Biophysics
University of Western Australia, Perth, Australia, 2003 Ph.D. in Physiology
HHMI/University of Iowa, Iowa City, 2006 Postdoctoral Fellow
Research Interest:
Our laboratory studies the molecular mechanisms underlying muscular dystrophy and associated cardiomyopathy, in particular, with an emphasis on how the sarcolemma (the plasma membrane of muscle cells) maintains its stability and integrity during mechanical stress. It has been recognized that the sarcolemma easily loses its integrity in a large number of muscular dystrophies. However, exactly how the sarcolemma stability and integrity is maintained in striated muscles has not been fully understood. To this point, our findings have elucidated that dystroglycan-linked basal lamina mechanically strengthens the sarcolemmal stability, while dysferlin-mediated membrane repair restores membrane integrity upon injury. Moreover, our studies have established a potential link between the loss of membrane integrity and innate immune activation in vivo. Our long-term goal is to not only better dissect the function and mechanisms by which the membrane stability and integrity is maintained in healthy muscles and disrupted in muscle disorders, but to also determine whether the membrane repair mechanism can be therapeutically targeted for the treatment of these diseases.
Selected Publications:
Xu J, El Refaey M, Xu L, Zhao L, Gao Y, Floyd K, Karaze T, Janssen PML, and Han R. (2015) Genetic disruption of Ano5 in mice does not recapitulate human ANO5-deficient muscular dystrophy. Skeletal Muscle, 5: 43. PMCID: PMC4685631.
Xu L, Park KH, Zhao L, Xu J, El Refaey M, Gao Y, Zhu H, Ma J, Han R. (2015) CRISPR-mediated genome editing restores dystrophin expression and function in mdx mice. Mol Ther 24:564-569. PMCID: PMC4786912.
Xu L, Zhao L, Gao Y, Xu J, Han R. (2016) Empower multiplex cell and tissue-specific CRISPR-mediated gene manipulation with self-cleaving ribozymes and tRNA. Nucleic Acids Res 45(5):e28. PMCID: PMC5389707.
El Refaey M, Xu L, Gao Y, Canan BD, Adesanya TA, Warner SC, Akagi K, Symer DE, Mohler PJ, Ma J, Janssen PM, Han R. (2017) In Vivo Genome Editing Restores Dystrophin Expression and Cardiac Function in Dystrophic Mice. Circulation Research, 121: 923-929. PMCID: PMC5623072.
Han R., Bansal D., Miyake K., Muniz V.P., Weiss R.M., McNeil P.L., and Campbell K.P. (2007) Dysferlin-mediated membrane repair protects the heart from stress-induced left ventricular injury. J. Clin. Invest., 117: 1805-1813.
Han R., Kanagawa M., Yoshida-Moriguchi T., Rader E.P., Ng R.A., Michele D.E., Muirhead D.E., Kunz S., Moore S.A., Iannaccone S.T., Miyake K., McNeil P.L., Mayer U., Oldstone M.B., Faulkner J.A., and Campbell K.P. (2009) Basal lamina strengthens cell membrane integrity via the laminin G domain-binding motif of alpha-dystroglycan. PNAS, 106: 12573-12579.
Han R., Frett E.M., Levy J.R., Rader E.P., Lueck J.D., Bansal D., Moore S.A., Ng R., Beltran-Valero de Bernabe D., Faulkner J.A., and Campbell K.P. (2010) Genetic ablation of complement C3 attenuates muscle pathology in dysferlin-deficient mice. J. Clin. Invest., 120: 4366-4374.
Xu L., Pallikkuth S., Hou Z., Mignery G.A., Robia S.L., and Han R. (2011) Dysferlin forms a dimer mediated by the C2 domains and the transmembrane domain in vitro and in living cells. PLoS One, 6: e27884.
Zhong Z., Zhai Y., Liang S., Mori Y., Han R., Sutterwala F.S., and Qiao L. (2013) TRPM2 links oxidative stress to NLRP3 inflammasome activation. Nat. Commun.,4: 1611.
Mariano A., Henning A., and Han R. (2013) Dysferlin-deficient muscular dystrophy and innate immune activation. FEBS J., 280:4165-4176.
Xu L., Zhao P., Mariano A., and Han R. (2013) Targeted myostatin gene editing in multiple mammalian species directed by a single pair of TALE nucleases. Mol. Ther. Nucleic Acids 2: e112.
Iyer S.S., He Q., Janczy J.R., Elliott E.I., Zhong Z., Olivier A.K., Sadler J.J., Knepper-Adrian V., Han R., Qiao L., Eisenbarth S.C., Nauseef W.M., Cassel S.L., and Sutterwala F.S. (2013) Mitochondrial cardiolipin is required for Nlrp3 inflammasome activation. Immunity, 39: 311-323.
Zhao P., Torcaso A., Mariano A., Xu L., Mohsin S., Zhao L., and Han R. (2014) Anoctamin 6 regulates C2C12 myoblast proliferation. PLoS One 9: e92749.
Cheng X., Zhang X., Gao Q., Ali Samie M., Azar M., Tsand W.L., Dong L., Sahoo N., Li X., Zhuo Y., Garrity A.G., Wang X., Ferrer M., Dowling J., Xu L., Han R., and Xu H. (2014) The intracellular Ca2+ channel MCOLN1 is required for sarcolemmal repair to prevent muscular dystrophy. Nat. Med., 20: 1187-1192.