W. David Arnold, MD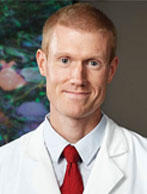 Associate Professor
Departments of Neurology, Physiology and Cell Biology, Neuroscience, and Physical Medicine and Rehabilitation
The Ohio State University Wexner Medical Center
105 Rightmire Hall
1060 Carmack Rd
Columbus, OH 43210
Phone: 614 293 3366
Email: William.Arnold@osumc.edu
Education & Training:
2000 BS, Cumberland College, Biology
2004 MD, University of Louisville School of Medicine, Medicine
2004-2005 Internship, Medicine, University of Louisville School of Medicine, Louisville, KY, United States.
2005-2008 Residency, Physical Medicine and Rehabilitation, University of Louisville School of Medicine, Louisville, KY, United States.
2008-2009 Fellowship, Neuromuscular Medicine, The Ohio State University, Columbus, OH, United States.
Research Interests:
We are primarily interested in understanding sarcopenia (aging-related loss of muscle mass) and dynapenia (aging-related loss of muscle strength) and developing therapies to reduce the burden of sarcopenia and dynapenia on society. We predict that therapies that can effectively reduce the effects of aging on the neuromuscular system will also likely also have impact in other genetic and acquired forms of neuromuscular disease. Of particular interest is motor unit function and degeneration during the lifespan of an organism and the role of motor unit degeneration in the development of sarcopenia and dynapenia.
Another major focus of the lab is the development of reliable and accurate preclinical and clinical biomarkers. We have developed and refined a number of preclinical electrophysiological measures as biomarkers in a variety of neuromuscular disorders and sarcopenia. Importantly, these measures mirror those used in the clinic and thus increase the ability to translate findings to the bedside.
In the clinic, we are investigating disorders of muscle excitability including nondystrophic and dystrophic myotonia. We are exploring a potential treatment to reduce the effects of myotonia on muscle function and developing novel biomarkers in these patient populations.
Selected Publications:
Arnold WD, Porensky PN, McGovern VL, Iyer CC, Duque S, Li X, Meyer K, Schmelzer L, Kaspar BK, Kolb SJ, Kissel JT, Burghes AH. Electrophysiological Biomarkers in Spinal Muscular Atrophy: Preclinical Proof of Concept. Annals of clinical and translational neurology 2014;1(1):34-44.
Arnold WD, Sheth KA, Wier CG, Kissel JT, Burghes AH, Kolb SJ. Electrophysiological Motor Unit Number Estimation (MUNE) Measuring Compound Muscle Action Potential (CMAP) in Mouse Hindlimb Muscles. Journal of visualized experiments : JoVE 2015(103).
Arnold WD, Feldman DH, Ramirez S, He L, Kassar D, Quick A, Klassen TL, Lara M, Nguyen J, Kissel JT, Lossin C, Maselli RA. Defective fast inactivation recovery of Nav 1.4 in congenital myasthenic syndrome. Annals of neurology 2015;77(5):840-850.
Duque SI, Arnold WD, Odermatt P, Li X, Porensky PN, Schmelzer L, Meyer K, Kolb SJ, Schumperli D, Kaspar BK, Burghes AH. A large animal model of spinal muscular atrophy and correction of phenotype. Annals of neurology 2015;77(3):399-414.
Arnold WD, Duque S, Iyer CC, Zaworski P, McGovern VL, Taylor SJ, von Herrmann KM, Kobayashi DT, Chen KS, Kolb SJ, Paushkin SV, Burghes AH. Normalization of Patient-Identified Plasma Biomarkers in SMNDelta7 Mice following Postnatal SMN Restoration. PloS one 2016;11(12):e0167077.
Arnold WD, McGovern VL, Sanchez B, Li J, Corlett KM, Kolb SJ, Rutkove SB, Burghes AH. The neuromuscular impact of symptomatic SMN restoration in a mouse model of spinal muscular atrophy. Neurobiology of disease 2016;87:116-123.
Mendell JR, Al-Zaidy S, Shell R, Arnold WD, Rodino-Klapac LR, Prior TW, Lowes L, Alfano L, Berry K, Church K, Kissel JT, Nagendran S, L'Italien J, Sproule DM, Wells C, Cardenas JA, Heitzer MD, Kaspar A, Corcoran S, Braun L, Likhite S, Miranda C, Meyer K, Foust KD, Burghes AHM, Kaspar BK. Single-Dose Gene-Replacement Therapy for Spinal Muscular Atrophy. The New England journal of medicine 2017;377(18):1713-1722.
Arnold WD, Taylor RS, Li J, Nagy JA, Sanchez B, Rutkove SB. Electrical impedance myography detects age-related muscle change in mice. 2017;12(10):e0185614.
Arnold WD, Kline D, Sanderson A, Hawash AA, Bartlett A, Novak KR, Rich MM, Kissel JT. Open-label trial of ranolazine for the treatment of myotonia congenita. PloS one 2017;89(7):710-713.
Sheth KA, Iyer CC, Wier CG, Crum AE, Bratasz A, Kolb SJ, Clark BC, Burghes AH, Arnold WD. Muscle Strength and Size are Associated with Motor Unit Connectivity in Aged Mice, Neurobiology of Aging 2018.
NCBI link: https://www.ncbi.nlm.nih.gov/sites/myncbi/william.arnold.1/bibliography/47352401/public/?sort=date&direction=ascending