Martha Ann Belury, Ph.D., R.D.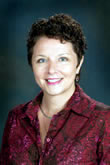 Professor; Carol S. Kennedy Professor of Nutrition
Department of Human Nutrition
The Ohio State University
1787 Neil Avenue
302 Campbell Hall
Columbus, OH 43210
Phone: (614) 292-1680
Web site at Ohio State
Email: belury.1@osu.edu
Education & Training:
University of Texas, Austin, TX in 1987, BS, Nutrition
University of Texas, Austin, TX in 1992, PhD, Biological Sciences
Research Interest:
We are interested in the study of whole body energy metabolism as regulated by interactions between adipose, liver and muscle tissues. Canonical mechanisms of energy metabolism involve insulin-dependent and insulin–independent pathways in each of these tissues. In addition, adipose secretes adipokines that regulate metabolism and inflammation in non-adipose tissues. We seek to understand how the availability or lack of availability of energy substrates and bioactive compounds (e.g., adipokines and dietary components) modulate metabolism and tissue function of adipose and muscle.
Energy deprivation induces atrophy of muscle and adipose using some overlapping mechanisms including altered metabolism, inflammation, proteolysis and cell death-associated signals. Our work with muscle involves identifying the steps of atrophy related to insulin-resistance, proteolysis and cell death. We use a murine model of muscle atrophy that is induced by cancer cachexia. In this mouse model, cachexia appears to involve early alterations of insulin-mediated metabolism and inflammation that contribute to diminished energy substrate and compromised function of skeletal muscle.
Selected Publications:
Purushotham A, Wendel AA, Liu, L-F, Belury MA. Maintenance of adiponectin attenuates insulin resistance induced by dietary conjugated linoleic acid in mice. J Lipid Res 48: 444-452, 2007
Wendel AA, Liu, LF, Purushotham A, Belury MA. Conjugated linoleic acid fails to worsen insulin resistance but induces hepatic steatosis in the presence of leptin in ob/ob mice. J Lipid Res 49: 98-106, 2008
Purushotham A,Tian M, Belury MA. Citrus fruit flavonoid naringenin suppresses glucose output from hepatic cells. Mol Nutr Food Res 53(2):300-307, 2008
Norris LE, Collene AL, Asp ML, Hsu JC, Liu LF, Richardson JR, Li D, Bell D, Osei K, Jackson RD, Belury MA, Comparison of dietary conjugated linoleic acid with safflower oil on body composition in obese postmenopausal women with type 2 diabetes mellitus, Am J Clin Nutr. 90:468-476, 2009.
Yee LD, Lester JL, Cole RM, Richardson JR, Hsu JC, Li Y, Lehman A, Belury MA, Clinton SK. Omega 3 fatty acid supplements in women at high risk for breast cancer show dose dependent effects on breast adipose fatty acid composition. American Journal of Clinical Nutrition 2010; 91:1185-1194
Asp ML, Tian M, Kliewer KL, Belury MA. Rosiglitazone delayed weight loss and anorexia while attenuating adipose depletion in mice with cancer cachexia. Cancer Biol Ther 2012;12(11):957-65