Zarife Sahenk, M.D., Ph.D.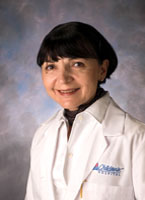 Professor
Nationwide Children's Research Institute
Center for Gene Therapy, WA 3024
700 Children's Drive
Columbus, OH 43205
Phone: (614) 722-2202
Fax: (614) 355-5247
Email: Zarife.sahenk@nationwidechildrens.org
Education & Training:
Hacettepe University, Ankara, Turkey 1967 B.S.
Hacettepe University, Ankara, Turkey 1972 M.D.
Ohio State University, 1975 Residency in Neurology
Ohio State University, 1976 Clinical Neuromuscular Fellow
Ohio State University, 1977-78 Neuromuscular Research Fellow
Ohio State University, 1998 Ph.D.
Research Interest:
Dr. Sahenk currently serves as Director of Clinical and Experimental Neuromuscular Pathology at The Research Institute at Nationwide Childrens Hospital and holds Professorships in Neurology and Pediatrics at the Ohio State University. Dr. Sahenk's laboratory focuses on basic and translational studies related to peripheral nerve disorders. An important goal has been testing therapeutic options to alleviate nerve dysfunction in experimental studies in order to contribute pre-clinical data in support of clinical trials.
Current research aims are to define the anatomical and molecular basis of hereditary peripheral neuropathies, emphasizing the role of trophic factors in nerve regeneration and regeneration-associated myelination. The role of neurotrophin-3 as well as Trk receptor specific agonistic antibodies in nerve regeneration in animal models of Charcot-Marie-Tooth (CMT) is currently under investigation. In addition, the laboratory works on projects involving the development of therapeutics and novel methods to deliver therapeutic genes more efficiently to the peripheral nerves. These studies are relevant to understanding the mechanism of axonal loss and impaired regeneration in CMT disorders and developing rational therapies to alleviate nerve dysfunction and promote nerve regeneration.
Selected Publications:
Zhang, X., Chow, C.Y., Sahenk, Z., Shy, M.E., Meisler, M.H., Li, J. (2008) Mutation of FIG4 causes a rapidly progressive, asymmetric neuronal degeneration, Brain, 131(Pt 8): 1990-2001.
Sahenk, Z., Nagaraja, H.N., McCracken, B.S., King, W.M., Freimer, M.L., Cedarbaum, J.M., Mendell, J.R. (2005) NT-3 promotes nerve regeneration and sensory improvement in CMT1A mouse models and in patients, Neurology, 65:681-689.
Sahenk Z, Serrano-Munuera C, Chen L, Kakabadze I. (2003) Evidence for impaired regeneration in PMP22 duplication: Studies in nerve xenografts. J Periph Nerv Syst., 8: 116-127.
Abrams CK, Freidin M, Bukauskas F, Dobrenis K, Bargiello TA, Verselis VK, Bennett MVL, Chen L and Sahenk Z. (2003) Pathogenesis of CMTX: Different effects of two mutations in connexin 32. J Neurosci., 23: 10548-10558.
Feng B, Chen L, Drmanovich Z, Kakabadze I, Mendell JR, Marzluf GA, Sahenk Z. (2000) Intracellular processing and toxicity of the truncated androgen receptor: Nuclear congophilia associated cell death. J Neuropath Exp Neurol., 59:652-663.
Haney CA, Sahenk Z, Li c, Lemmon VP, Roder J, Trapp BD. (1999) Heterophilic binding of L1 on unmyelinated sensory axons mediates Schwann cell adhesion and required for axonal survival. J Cell Biol., 146:1173-184.
Sahenk Z. (1999) Abnormal Schwann cell-axon interactions in CMT neuropathies. Ann NY Acad Sci., 883: 415- 426.
Sahenk Z, Chen L. (1998) Abnormalities in the axonal cytoskeleton induced by a Connexin 32 mutation in nerve xenografts. J Neurosci Res., 51:174-184.
Erdem S, Mendell JR, Sahenk Z. (1998) Fate of Schwann cells in CMT1A and HNPP: Evidence for apoptosis J Neuropath Exp Neurol., 57:635-642.
Sahenk Z, Sehareseyon J, Mendell JR, Burghes AHM. (1993) Gene delivery to spinal motor neurons. Brain Research., 606:126-129.
Flanigan KM, von Niederhausern A, Dunn DM, Alder J, Mendell JR, Weiss RB. (2003) Rapid direct sequence analysis of the dystrophin gene. Am J Hum Genet. Apr;72(4):931-9.