Stephen Kolb, M.D. , Ph.D.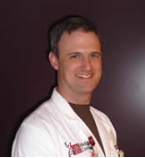 Assistant Professor of Neurology
And Molecular and Cellular Biochemistry
The Ohio State University Medical Center
Department of Molecular and Cellular Biochemisty
1645 Neil Avenue
Columbus, OH 43210

Phone: (614) 292-3545
Fax: (614) 293-4118
Email: Stephen.Kolb@osumc.edu
Website: http://www.neurology.osu.edu/kolblab/
Education & Training:
University of Texas, Austin 1990 B.A. in Biochemistry
University of Texas Medical School, Houston 1998 M.D. & Ph.D.
University of Pennsylvania, 2002 Residency in Medicine and Neurology
University of Pennsylvania, 2007 Postdoctoral Fellow
Research Interest:
The Kolb Lab is devoted to the understanding of molecular pathways that, when altered, result in diseases of the motor neuron. We are particularly interested in alterations in RNA metabolism that result in neurological diseases. The mechanisms of spinal muscular atrophy and of distal hereditary neuropathies are current foci for biochemical and cell-based investigation. Our long-term goals are to determine the precise mechanisms that cause motor neuron diseases, including sporadic amyotrophic lateral sclerosis, and to develop small molecule and/or gene-based therapies for these diseases.
Selected Publications:
Kolb SJ, Snyder PJ, Poi EJ, Renard EA, Bartlett A, Gu S, Sutton S, Arnold WD, Freimer ML, Lawson VH, Kissel JT, Prior TW. (2010) Mutant small heat shock protein B3 causes motor neuropathy: utility of a candidate gene approach, Neurology, 74:502-506.
Elsheikh B, Prior T, Zhang X, Miller R, Kolb SJ, Moore D, Bradley W, Barohn R, Bryan W, Gelinas D, Iannaccone S, Leshner R, Mendell JR, Mendoza M, Russman B, Smith S, King W, Kissel JT. (2009) An analysis of disease severity based on SMN2 copy number in adults with spinal muscular atrophy, Muscle Nerve, 40:652-656.
Kolb, S.J. and Kissel, J.T. (2008) Coincident Trinucleotide Repeat Expansions in a Patient with Myotonic Dystrophy Type 1 and Spinocerebellar Ataxia, J. Clin. Neuromus. Dis. 10, 22-23.
Kolb, S.J., Battle, D.J., Dreyfuss, G. (2007) Molecular Functions of the SMN Complex, J. Child Neurol. 22, 990-994.
Neumann, M., Igaz, L.M., Kwong, L.K., Nakashima-Yasuda, H., Kolb, S.J., Dreyfuss, G., Kretzschmar, H.A., Trojanowski, J.Q., and Lee, V. M.-Y. (2007) Absence of Heterogeneous Nuclear Ribonucleoproteins and Survival Motor Neuron Protein in TDP-43 Positive Inclusions in Frontotemporal Lobar Degeneration, Acta Neuropathol. (Berl). 113, 543-548.
Sumner, C.J. *, Kolb, S.J.*, Harmison, G.G., Jeffries, N.O., Schadt, K., Finkel, R.S., Dreyfuss, G., and Fischbeck, K.H. (2006) SMN mRNA and Protein Levels in Peripheral Blood: Biomarkers for SMA Clinical Trials, Neurol. 66, 1067-1073. *co-first author
Kolb, S.J., Gubitz, A.K., Olszewski, R.F., Ottinger, E., Sumner, C.J., Fischbeck, K.H., and Dreyfuss, G. (2006) A Novel Cell Immunoassay to Measure Survival of Motor Neurons Protein in Blood Cells, BMC Neurology 6, 6.
Wan, L., Battle, D.J., Yong, J., Gubitz, A.K., Kolb, S.J., Wang, J., and Dreyfuss, G. (2005) The Survival of Motor Neurons Protein Determines the Capacity for snRNP Assembly: a Biochemical Deficiency in Spinal Muscular Atrophy, Mol. Cell. Biol. 25, 5543-5551.