Federica Montanaro, Ph.D.
Assistant Professor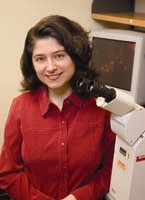 Nationwide Children's Hospital
Department of Pediatrics
Center for Gene Therapy WA-3020
700 Children's Drive
Columbus, OH 43210
Phone: (614) 722-2875
Fax: (614) 722-5893
Email: Federica.montanaro@nationwidechildrens.org
Education & Training:
McGill University, Montreal, QC Canada, 1991 BSc in Biology and Neuroscience
McGill University, Montreal, QC Canada, 1999 Ph.D. in Biology and Neuroscience
Harvard Medical School, 2005 Postdoctoral Fellowship
Research Interest:
My laboratory is interested in understanding the pathological mechanisms underlying Duchenne Muscular Dystrophy (DMD). DMD is caused by mutations in the gene coding for dystrophin. Dystrophin is expressed at the membrane of muscle fibers and cardiac cells. Loss of dystrophin leads to chronic muscle damage and eventually muscle is replaced by fibrotic tissue. Patients succumb to heart or respiratory failure before their third decade of life.

Our laboratory is pursuing two research project. In project 1, we want to understand how loss of dystrophin leads to muscle degeneration and why some muscles are more affected than others. We have developed a proteomics-based protocol to isolate dystrophin from small amounts of muscle and then identify its interacting proteins. We have found new proteins that interact with dystrophin and provide new leads on its muscle-type specific functions. In Project 2, we want to understand the role of interstitial stem cells in the progression of muscle loss in DMD. We have found that stem cells from wild type muscle spontaneously differentiate into muscle. However, when we isolate these same stem cells from dystrophic muscle, only fibrotic cells are formed. We are currently studying pathways that regulate cell-fate choices in these stem cells with the goal of identifying compounds that can re-direct them to form muscle in dystrophic muscle.
Selected Publications:
Project 1:
Johnson E, Zhang L, Adams ME, Phillips A, Freitas MA, Froehner SC, Green-Church KB, Montanaro F. (2012) Proteomic analysis reveals new cardiac-specific dystrophin-associated proteins. PloS ONE 7(8): e43515
Yoon J., Johnson E., Xu R., Martin L., Martin P., Montanaro F. (2012) Comparative proteomic profiling of dystroglycan-associated proteins in wild type, mdx and Galgt2 transgenic mouse skeletal muscle. Journal of Proteome Research. 11(9): 4413-24.
Kaspar, R.W., Allen, H.D., Ray W., Alvarez, C.E., Kissel, J.T., Pestronk, A., Weiss, R.B., Flanigan, K.M., Mendell, J.RAnalysis of dystrophin deletion mutations predicts age of cardiomyopathy onset in Becker Muscular Dystrophy. Circulation: Cardiovascular Genetics, 2(6): 544-551.
Montanaro F., Lindenbaum M. H., Carbonetto S. (1999) α-dystroglycan is a laminin receptor involved in extracellular matrix assembly on myotubes and muscle cell viability. Journal of Cell Biology. 145: 1325-1340.
Gee S., Montanaro F., Lindenbaum M.H., Carbonetto S. (1994) Dystroglycan-α, a dystrophin-associated glycoprotein, is a functional agrin receptor. Cell. 77:675-686.
Project 2
Penton CM, Thomas-Ahner JM, Johnson EK, McAllister C, Montanaro F. (2013) Muscle Side Population Cells from Dystrophic or Injured Muscle Adopt a Fibro-Adipogenic Fate. PloS ONE 8(1): e54553.
Beastrom N., Lu H., Macke A., Canan B.D., Johnson E.K., Penton C.M., Kaspar B.K., Rodino-Klapac L.R., Zhou L., Janssen P.M.L.,(2011) Mdx5cv mice manifest more severe muscle dysfunction and diaphragm force deficits than mdx mice. American Journal of Pathology. 179(5):2464-74.
Leblanc E., Frédéric F., Haroun S., Drouin G., Bergeron E., Penton C. M., Montanaro F., Roux S., Faucheux N., Grenier G. (2011). BMP9-Induced Muscle Heterotopic Ossification Requires Changes to the Skeletal Muscle Microenvironment. Journal of Bone and Mineral Research. 26(6):1166-77.
Montanaro F., Liadaki K., Schienda J., Flint A., Gussoni E., Kunkel L.M. (2004) Demystifying SP cell purification: viability, yield and phenotype are defined by isolation parameters. Experimental Cell Research 298: 144-154.
Proceedings of the National Academy of Sciences 100:9336-9341.