Afrooz Rashnonejad, M.Sc., Ph.D.
Assistant Professor
The Ohio State University Medical School, Department of Pediatrics
Nationwide Children's Research Institute
Center for Gene Therapy, Rm. WA3014

700 Children's Drive

Columbus, OH  43205
Phone: (614) 355-6778
Email: Afrooz.rashnonejad@nationwidechildrens.org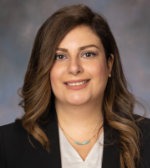 Education & Training:
B.S. in Cellular and Molecular Biology – Microbiology, Shahid Chamran University of Ahvaz, Iran, 2002-2006
M.Sc. in Microbiology, Azad University, Tehran, Iran, 2007-2010
M.Sc. in Stem Cell, Ege University, Turkey, 2013-2016
Ph.D. in Biotechnology, Ege University, Turkey, 2011-2017
Nationwide Children's Hospital, Center for Gene Therapy, OH, 2017-2022, Postdoctoral Fellow
Research Interest:
The Rashnonejad lab is focused on developing Adeno-Associated Virus (AAV)-based gene therapies for neuromuscular disorders using cutting-edge technologies such as RNAi and CRISPR tools. The primary focus of Rashnonejad lab is improving PNS targeting by engineering AAV vectors toward developing gene therapies for peripheral neuropathies including Charcot-Marie-Tooth disease (CMT1B and Dejerine–Sottas syndrome (DSS)) that affect both nerves and muscles. Rashnonejad lab is also interested to develop in-utero gene therapies for severe neuromuscular disorders.
Selected Publications:
Rashnonejad A, Chermahini GA, Taylor NM, Wein N, Harper SQ. Designed U7 small nuclear RNA antisense expression cassettes inhibit DUX4 expression and improve FSHD-associated outcomes in DUX4 over-expressing cells and FSHD patient myotubes. Molecular Therapy-Nucleic Acid, 2021; 23: 476–486.
Chermahini GA, Rashnonejad A, Harper SQ. in situ hybridization-based method for detecting DUX4 RNA expression in vitro. RNA. 2019, 25(9):1211-1217.
Giesige CR, Wallace LM, Heller KN, Eidahl JO, Saad NY, Fowler AM, Pyne NK, Al-Kharsan M, Rashnonejad A, Chermahini GA, Domire JS, Mukweyi D, Garwick-Coppens SE, Guckes SM, McLaughlin KJ, Meyer K, Rodino-Klapac LR, Harper SQ. AAV-mediated follistatin gene therapy improves functional outcomes in the TIC-DUX4 mouse model of FSHD. JCI Insight. 2018, 3(22). pii: 123538.
Rashnonejad A, Amini Chermahini G, Gündüz C, Onay H, Aykut A, Durmaz B, Baka M, Su Q, Gao G, Özkınay F. Fetal Gene Therapy Using a Single Injection of Recombinant AAV9 Rescued SMA Phenotype in Mice. Molecular Therapy. 2019, 27(12):2123-2133.
Rashnonejad A, Ercan G, Gunduz C, Akdemir A, Tiftikcioglu YO. Comparative analysis of human UCB and adipose tissue derived mesenchymal stem cells for their differentiation potential into brown and white adipocytes. Mol Biol Rep. 2018, 45(3):233-244. doi: 10.1007/s11033-018-4156-1.
Rashnonejad A, Amini Chermahini G, Li S, Ozkinay F, Gao G. Large-Scale Production of Adeno-Associated Viral Vector Serotype-9 Carrying the Human Survival Motor Neuron Gene. Mol Biotechnol. 2016;58:30-6.
Rashnonejad A, Onay H, Atik T, Atan Sahin O, Gokben S, Tekgul H, Ozkinay F. Molecular Genetic Analysis of Survival Motor Neuron Gene in 460 Turkish Cases with Suspicious Spinal Muscular Atrophy Disease. Iran J Child Neurol. 2016, 10(4):30-35.
Rashnonejad A, Gündüz C, Yılmaz Süslüer S, Onay H, Durmaz B, Bandehpour M, Özkınay F. In vitro gene manipulation of spinal muscular atrophy fibroblast cell line using gene-targeting fragment for restoration of SMN protein expression. Gene Ther. 2016;23(1):10-7.
My NCBI Link: https://www.ncbi.nlm.nih.gov/myncbi/afrooz.rashnonejad.1/bibliography/public/