Megan Waldrop, M.D.
Assistant Professor
Departments of Pediatrics and Neurology
Center for Gene Therapy, Nationwide Children's Hospital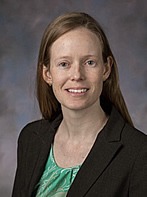 Education & Training:
Albany Medical College, M.D.
University of California, Irvine, Pediatrics and Pediatric Neurology Residency
Ohio State University & Nationwide Children's Hospital, ACGME-accredited Neuromuscular Medicine Fellowship
Nationwide Children's Hospital, ACGME-accredited Neuromuscular Genetics Therapeutics Fellowship
Research Interests:
1. Clinical trials and innovative therapies in neuromuscular disease
2. Undiagnosed patients with suspected inherited neuromuscular disease
Selected Publications:
Waldrop MA, Pastore M, Schrader R, Sites E, Bartholomew D, Tsao CY, Flanigan KF. Diagnostic Utility of Whole Exome Sequencing in the Neuromuscular Clinic. Neuroped, accepted Dec 2018
Koboldt DC, Kastury R, Waldrop MA, Kelly BJ, Mihalic Moser T, McLaughlin H, Corsmeier D, Slaughter JL, Flanigan KM, McBride KL, Mehta L, Wilson RK, White P. Inframe de novo mutation in BICD2 in two patients with muscular atrophy and arthrogryposis. Molec Case Stud, 2018; in press.
Waldrop MA, Gumienny F, Boue D, de los Reyes E, Shell R, Weiss RB, Flanigan KM. Low-level expression of EPG5 leads to an attenuated vici syndrome phenotype. Amer J Med Genet Part A, 2018;00:1–5. PMID: 29681093
Waldrop MA, Gumienny F, Weiss B, Flanigan KM. Low-level dystrophin expression attenuating the dystrophinopathy phenotype. Neuromusc Disord 2018 Feb 28:116-121. PMID: 29305136
Waldrop MA, Boue DR, Sites E, Flanigan KM, Shell R. Clinico-pathological Conference: A hypotonic newborn with cleft palate, micrognathia and bilateral club feet. Pediatr Neuro 2017 Sep 74:11-14. PMID: 28676249
Waldrop MA, Leinung M, Lee D, Grasso P. Intranasal delivery of mouse [D-Leu-4]-OB3, a synthetic peptide amide with leptin-like activity, improves energy balance, glycemic control, insulin sensitivity, and bone formation in leptin-resistant C57BLK/6 db/db mice. Diabet Obes Metab. 2010 Oct 12(10):871-875. PMID: 20920039
Waldrop MA, Suckow AT, Marcovina SM, Chessler SD. Release of glutamate decarboxylase-65 into the circulation by injured pancreatic islet beta cells. Endocrinology. 2007 Oct 148(10):4572-8. PMID: 17584960
Waldrop MA, Suckow AT, Hall TR, Hampe CS, Marcovina SM, Chessler SD. A highly sensitive immunoassay resistant to autoantibody interference for the detection of the diabetes associated auotantigen glutamic acid decarboxylase 65 in blood and other biological samples. Diabetes Technol Ther. 2006 Apr 8(2):207-18. PMID: 16734550
Suckow AT, Comoletti D, Waldrop MA, Mosedale M, Egodage S, Taylor P, Chessler SD. Expression of neurexin, neuroligin, and their cytoplasmic binding partners in the pancreatic beta-cells and the involvement of neuroligin in insulin secretion. Endocrinology. 2008 Dec 149(12):6006-17. PMID: 18755801
Suckow AT, Sweet IR, Van Yserloo B, Rutledge EA, Hall TR, Waldrop M, Chessler SD. Identification and characterization of a novel isoform of the vesicular gamma-aminobutyric acid transporter with glucose-regulated expression in rats. J Mol Endocrinol. 2006 Feb 36(1):187-99. PMID: 16461938