George Kyriazis, Ph.D.
Associate Professor
Department of Biological Chemistry & Pharmacology
Biomedical Research Tower (BRT)
460 W 12th Ave
Columbus, OH 43210
Office: 0394 BRT
Phone: (614) 293-2947
Email: kyriazis.2@osu.edu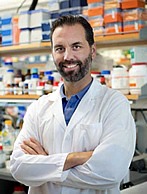 Education & Training:
University of Central Florida, Ph.D.
Sanford Burnham Prebys Medical Discovery Institute, Post Doctoral
Research Interests:
My lab explores the biology of novel nutrient-sensing G protein-coupled receptors (GPCRs), aiming to delineate their contribution to the development of metabolic diseases. For our studies, we implement experimental approaches ranging from molecular/cell biology to integrative physiology using genetic mouse models and human cells/tissues. We are specifically interested in understanding the role of the T1R2 chemoreceptor signaling in the regulation of substrate flux and metabolism in skeletal muscle and investigate its contribution to energy homeostasis in vivo.
Selected Publications:
Smith K, Karimian-Azari E, LaMoia TE, Hussain T, Vargova V, Karolyi K, Veldhuis PP, Arnoletti JP, de la Fuente SG, Pratley RE, Osborne TF, Kyriazis GA. T1R2 receptor-mediated glucose sensing in the upper intestine potentiates glucose absorption through activation of local regulatory pathways. Mol Metab. 2018 Aug 27. pii: S2212-8778(18)30498-8.
Karimian Azari E, Smith KR, Yi F, Osborne TF, Bizzotto R, Mari A, Pratley PR and Kyriazis GA. Inhibition of sweet chemosensory receptors alters glycemic and insulin responses during glucose ingestion in healthy adults: a randomized crossover interventional study. Am J Clin Nutr. 2017 Apr;105(4):1001-1009.
Smith KR, Hussain T, Karimian Azari E, Steiner JL, Ayala JE, Pratley RE, and Kyriazis GA. Disruption of the sugar sensing receptor T1R2 attenuates metabolic derangements associated with diet-induced obesity. Am J Physiol Endocrinol Metab. 2016 Apr 15;310(8):E688-E698
Kyriazis GA*, Smith KR, Tyrberg B, Hussain T and Pratley RE. Sweet taste receptors regulate basal insulin secretion and contribute to compensatory insulin hyper-secretion during the development of diabetes in male mice. Endocrinology. 2014 Jun;155(6):2112-21. (*Corresponding Author)
Kyriazis GA, Soundarapandian MM and Tyrberg B. Sweet taste receptor signaling in β-cells mediates fructose-induced potentiation of glucose-stimulated insulin secretion. Proc Natl Acad Sci U S A. 2012 Feb 21;109(8):E524-32. Epub 2012 Feb 6.
My NCBI link: https://www.ncbi.nlm.nih.gov/sites/myncbi/george.kyriazis.2/bibliography/54836167/public/?sort=date&direction=ascending