Mark T Ziolo, Ph.D., FAHA
Professor
Dept of Physiology and Cell Biology
Campus Address:
4072B Graves Hall
333 W 10th Ave
Phone: (614) 688-7905
Email: ziolo.1@osu.edu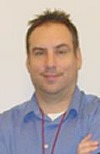 Education & Training:
PhD, University of Illinois at Chicago
Post Doctoral, Loyola University
Research Interest:
My research area is cardiovascular physiology. Specifically, the lab is investigating novel therapeutic approaches that can restore cardiac contractile function (mechanical and electrical) in various cardiomyopathies. Currently, we are investigating the cardiac effects of a new compound that restores the nitroso-redox balance. We are also investigating the effects of lipids released from brown adipose tissue (i.e., batokines) on heart function. These are being testing in various disease models (myocardial infarction, TAC, diabetes, senescence, and hypertension).
Selected Publications:
Shettigar V, Zhang B, Little SC, Salhi HE, Hansen BJ, Li N, Zhang J, Roof SR, Ho HT, Brunello L, Lerch JK, Weisleder N, Fedorov VV, Accornero F, Rafael-Fortney JA, Gyorke S, Janssen PM, Biesiadecki BJ, Ziolo MT*, Davis JP*. Rationally engineered Troponin C modulates in vivo cardiac function and performance in health and disease. Nature Commun. 7:10794. 2016.
Zhang B, Novitskaya T, Wheeler DG, Xu Z, Chepurko E, Huttinger R, He H, Varadharaj S, Zweier JL, Song Y, Xu M, Harrell FE Jr, Su YR, Absi T, Kohr MJ, Ziolo MT, Roden DM, Shaffer CM, Galindo CL, Wells QS, Gumina RJ. Kcnj11 Ablation Is Associated With Increased Nitro-Oxidative Stress During Ischemia-Reperfusion Injury: Implications for Human Ischemic Cardiomyopathy. Circ Heart Fail. 2017;10(2):e003523.
Stanford KI, Lynes MD, Takahashi H, Baer LA, May FJ, Lehnig AC, So K, Chen EY, Gao F, Narain NR, Distefano G, Meyer C, Shettigar VK, Hirshman MF, Ziolo MT, Kiebish MA, Tseng YH, Coen PM, Goodyear LJ. 12,13-diHOME: An Exercise-Induced Lipokine that Increases Skeletal Muscle Fatty Acid Uptake. Cell Metabolism. In Press.
NCBI link: https://www.ncbi.nlm.nih.gov/myncbi/browse/collection/41138738/?sort=date&direction=descending