Jonathan P. Davis, Ph.D.
Professor
The Ohio State University Medical Center
Department of Physiology & Cell Biology
1645 Neil Ave.
Columbus, OH 43210
Phone: (614) 247-2559
Email: davis.812@osu.edu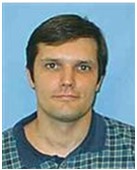 Education & Training:
Greenville College, Greenville, Illinois, B.A. in Mathematics and Physics, 1993
The Ohio State University, Columbus, Ph.D. Biophysics, 1998
Emory University, Atlanta Go, Department of Cell Biology, Postdoc Fellow, 1999
The Ohio State University, Department of Physiology and Cell Biology, Postdoc Fellow, 2003
Research Interest:
In our group, we are interested in elucidating the biochemical and physiological mechanisms that determine the kinetics of cardiac and skeletal muscle contraction and relaxation in health and disease through the engineering of proteins.  Specific interests include:
1) Determine the cellular and molecular basis of muscle contraction and relaxation.
2) Understand how calcium binding proteins/enzymes are appropriately "tuned" kinetically to respond to calcium transients in vitro and in vivo.
3) Modulate cellular function through the design and engineering of calcium binding proteins and/or their binding partners.
Selected Publications:
Liu B, Walton SD, Ho HT, Belevych AE, Tikunova SB, Bonilla I, Shettigar V, Knollmann BC, Priori SG, Volpe P, Radwanski PB, Davis JP*, Gyorke S*. Gene transfer of engineered calmodulin alleviates ventricular arrhythmias in a calsequestrin-associated mouse model of catecholaminergic polymorphic ventricular tachycardia. 2018, 7(10). pii: e008155. J Am Heart Assoc. PMCID: not yet available
Shettigar V, Zhang B, Little SC, Salhi HE, Hansen BJ, Li N, Zhang J, Roof SR, Ho HT, Brunello L, Lerch JK, Weisleder N, Fedorov VV, Accornero F, Rafael-Fortney JA, Gyorke S, Janssen PM, Biesiadecki BJ, Ziolo MT, Davis JP. Rationally engineered Troponin C modulates in vivo cardiac function and performance in health and disease. Nat Commun. 2016, 7:10794. PMCID: PMC4770086
V Shettigar V, B Zhang, SC Little, HE Salhi, BJ Hansen, N Li, J Zhang, SR Roof, H Ho, L Brunello, JK Lerch, N Weisleder, VV Fedorov, F Accornero, JA Rafael-Fortney, S Gyorke, PML Janssen, BJ Biesiadecki, MT Ziolo, JP Davis. Rationally engineered Troponin C modulates in vivo cardiac function and performance in health and disease. Nature Communications. 2016, 7:10794. PMCID: PMC4770086
Trivedi DV, Muretta JM, Swenson AM, Davis JP, Thomas DD, Yengo CM. Direct measurements of the coordination of lever arm swing and the catalytic cycle in myosin V. Proc Natl Acad Sci U S A. 2015, 112(47):14593-8. PMCID: PMC4664342
Wang W, Barnabei MS, Asp ML, Heinis FI, Arden E, Davis J, Braunlin E, Li Q, Davis JP, Potter JD, MetzgerJM. Noncanonical EF-hand motif strategically delays Ca2+ buffering to enhance cardiac performance. Nat Med. 2013, 19(3):305-12. PMCID: PMC3727912
W Wang, MS Barnabei, ML Asp, FI Heinis, E Arden, J Davis, E Braunlin, Q Li, JP Davis, JD Potter, JM Metzger. Noncanonical EF-hand motif strategically delays Ca2+ buffering to enhance cardiac performance. Nature medicine. 2013. 19 (3), 305-312. PMCID: PMC3727912
B Liu, RS Lee, BJ Biesiadecki, SB Tikunova, JP Davis. Engineered troponin C constructs correct disease-related cardiac myofilament calcium sensitivity. Journal of Biological Chemistry. 2012. 287 (24), 20027-20036. PMCID: PMC3370186
Liu B, SB Tikunova, KP Kline, JK Siddiqui, JP Davis. Disease-related cardiac troponins alter thin filament Ca2+ association and dissociation rates. PloS one. 2012. 7 (6), e38259. PMCID: PMC3366952
SC Little, BJ Biesiadecki, A Kilic, RSD Higgins, PML Janssen, JP Davis. The rates of Ca2+ dissociation and cross-bridge detachment from ventricular myofibrils as reported by a fluorescent cardiac troponin C. Journal of Biological Chemistry. 2012. 287 (33), 27930-27940. PMCID: PMC3431663
J Zhang, V Shettigar, GC Zhang, DG Kindell, X Liu, JJ López, V Yerrimuni, GA Davis, JP Davis. Engineering Parvalbumin for the Heart: Optimizing the Mg2+ Binding Properties of Rat β-Parvalbumin. 2011. Frontiers in Physiology 2. PMCID: PMC3204457
J Zhang, V Shettigar, GC Zhang, DG Kindell, X Liu, JJ López, V Yerrimuni, GA Davis, JP Davis. Engineering Parvalbumin for the Heart: Optimizing the Mg2+ Binding Properties of Rat β-Parvalbumin. 2011. Frontiers in Physiology 2. PMCID: PMC3204457
RS Lee, SB Tikunova, KP Kline, HG Zot, JE Hasbun, N Van Minh, DR Swartz, JA Rall, JP Davis. Effect of Ca2+ binding properties of troponin C on rate of skeletal muscle force redevelopment. American Journal of Physiology-Cell Physiology. 2010. 299 (5), C1091-C1099. PMCID: PMC2980305
RS Lee, SB Tikunova, KP Kline, HG Zot, JE Hasbun, N Van Minh, DR Swartz, JA Rall, JP Davis. Effect of Ca2+ binding properties of troponin C on rate of skeletal muscle force redevelopment. American Journal of Physiology-Cell Physiology. 2010. 299 (5), C1091-C1099. PMCID: PMC2980305
My NCBI Link: https://www.ncbi.nlm.nih.gov/myncbi/browse/collection/41908863/?sort=date&direction=ascending