Nicolas Wein, Ph.D.
Assistant Professor
The Ohio State University Wexner Medical Center
Department of Pediatrics
Principal Investigator
The Research Institute at Nationwide Children's Hospital
Center for Gene Therapy, WA3020
700 Children's Dr
Columbus, OH 43204
Phone: (614) 355-3571
Fax: (614) 722-3273
Email: nicolas.wein@nationwidechildrens.org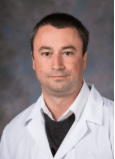 Education & Training:
University of Aix-Marseille II, Luminy Faculty of Science, France 2004, BS Cell biology University of Aix-Marseille II, La Timone Medical School, France, 2006, MS Human Genetics
University of Aix-Marseille II, La Timone, France, 2010, Ph.D. Neuromuscular Disorders
Nationwide Children's Hospital, Center For Gene Therapy, OH 2011-2016, Postdoctoral Fellow
Research Interest:
My laboratory studies the mechanisms of pathogenesis of neuromuscular disorders with a primary focus on Duchenne Muscular dystrophy (DMD). In addition we are developing pertinent therapeutic strategy using translational research, an emerging field which can be summarized as understanding the cause of a disease and learning from it in order to develop innovative therapeutic strategies.
Our long-term projects focus on RNA and DNA editing and gene transfer as therapies for neuromuscular disorders, but they will also include more fundamental research on muscle function. In particular, our lab uses the newest technologies, such as virus-mediated exon-skipping and the CRISPR/Cas9 genome editing tool.
Our primary work is focused on developing a therapeutic strategy for patients suffering from severe muscular dystrophy DMD caused by mutations in the first part of the gene. Our preliminary results indicate that this region can be removed from the messenger RNA without losing the protein function (or with minor reduction in the functionality of the protein). Therefore, forcing the expression of this new smaller protein isoform is a promising therapeutic strategy for patients with mutations in that region. Moreover, determining the exact role of this protein domain will improve our general understanding of muscle physiology and might help find therapeutic strategies for other disorders in the long term.
Selected Publications:
Wein N, Vulin A, Findlay AR, Gumienny F, Huang N, Wilton SD, Flanigan KM. Efficient Skipping of Single Exon Duplications in DMD Patient-Derived Cell Lines Using an Antisense Oligonucleotide Approach. J Neuromuscul Dis. 2017;4(3):199-207.
Massouridès E, Polentes J, Mangeot P.E, Nectoux J, Deburgrave N, Nusbaum P., Leturcq F., Wein N, Flanigan K.M, Peschanski P, Chelly J, Pinset C. Dp412e: a novel human embryonic dystrophin isoform induced by BMP4 in early differentiated cells. Skelet Muscle. 2015 Nov 14;5:40.
N. Wein*, A. Vulin*, T.R. Simmons, A.M. Rutherford, A.R. Findlay, J.A. Yurkoski,Y. Kaminoh, K.M. Flanigan. The first exon duplication mouse model of Duchenne muscular dystrophy: A tool for therapeutic development. Neuromuscul Disord. 2015 Nov;25(11):827-34.
* These authors equally contributed
F. Barthélémy, N. Wein*, C. Blouin*, V. Mouly, L. Garcia, G. Butler-Browne, C. Lamaze, N. Lévy, M. Krahn, M. Bartoli. Recovery of Dysferlin Function after Exon-Skipping. JND. 2015 Sept; 2(3):281-290.
* These authors equally contributed
Findlay A.; Wein N., Kaminoh K; Taylor L.; Dunn D., Mendell J.; King W.; Pestronk A.; Florence J.; Mathews K.; Finkel R.; Swoboda K.; Howard M.; Day J.; McDonald C.; Weiss R.,Flanigan K. for the United Dystrophinopathy Project. Clinical phenotypes as predictors of the outcome of DMD exon 45 skipping. Ann Neurol. 2015 Apr;77(4):668-74.
Wein N*, Vulin A*, Falzarano MS, Szigyarto A, Maiti B, Findlay A, Uhlen M, Bakthavachalu B, Messina S, Kaminoh Y, Vattemi G, Perrone D, Taylor L, Gualandi F, Weiss RB, Schoenberg D, Howard M, Ferlini A, Flanigan KM. Using out of frame exon skipping to induce IRES-driven expression of an N-truncated dystrophin isoform: A novel therapeutic approach to mutations in the 5' region of DMD. Nat Med. 2014 Sep;20(9):992-1000.
* These authors equally contributed
A.Vulin, N.Wein; D. Strandjord; A.R. Findlay; B. Maiti; M.T. Howard; Y.J. Kaminoh; L.E. Taylor; W.C. Ray; J.M. Ervasti; K.M. Flanigan. DMD and the role of the ZZ domain of dystrophin: making sense of missense mutations. Hum Mutat. 2014 Feb;35(2):257-64.
Meregalli M, Navarro C, Sitzia C, Farini A, Montani E, Wein N, Razini P, Beley C, Cassinelli L, Parolini D, Belicchi M, Parazzoli D, Garcia L, Torrente Y. Full-length dysferlin expression driven by engineered human dystrophic blood derived CD133+ stem cells. FEBS J. 2013 Dec;280(23):6045-60.
Wein N*, Krahn M*, Bartoli M*, Lostal W, Courrier S, Bourg-Alibert N, Nguyen K, Vial C, Streichenberger N, Labelle V, DePetris D, Pécheux C, Leturcq F, Cau P, Richard I and Lévy N. A Naturally Occurring Human Minidysferlin Protein Repairs Sarcolemmal Lesions in a Mouse Model of Dysferlinopathy. Sci Transl Med. 2010 Sep 22;2(50):50ra69.
* These authors equally contributed
Wein N, Avril A, Bartoli M, Beley C, Chaouch S, Laforêt P, Behin A, Butler-Browne G, Mouly V, Krahn M, Garcia L, Lévy N. Efficient bypass of mutations in dysferlin deficient patient cells by antisense-induced exon skipping. Hum Mutat. 2010 Feb;31(2):136-42.
Wein N, Krahn M, Courrier S, Bartoli M, Salort-Campana E, Nguyen K, Fernandez C, Pouget J, Fossat C, Depetris D, Leturcq F, Cau P, Levy N. Immunolabelling and flow cytometry as new tools to explore dysferlinopathies. Neuromuscul Disord. 2010 Jan;20(1):57-60.