Kedryn K. Baskin, Ph.D.
Assistant Professor
The Ohio State University Wexner Medical Center
Department of Physiology and Cell Biology
473 W. 12 Avenue, BRT 392
Phone: 614-293-6480
Email: Kedryn.Baskin@osumc.edu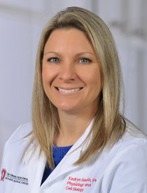 Education & Training:

Baylor University, Waco, TX, 2002, B.A. Biochemistry, Philosophy
The University of Texas Health Science Center at Houston and M.D. Anderson Cancer Center Graduate School of Biomedical Sciences, Houston, TX, 2012, Ph.D. Cell Biology and Physiology
The University of Texas Southwestern Medical Center, Dallas, TX, 2012-2018 Postdoctoral Fellow
Research Interests:
The Baskin laboratory studies cardiovascular physiology and the molecular mechanisms that regulate cardiac function and metabolism, with a focus on the endocrine function of the heart. The heart has the remarkable capacity to adapt to metabolic, hormonal, and stress signals, in part by secreting factors that act in an autocrine/paracrine manner to optimize cardiac function. Some proteins and metabolites secreted from the heart have the potential to regulate systemic metabolism. We have identified and are investigating the function of novel factors secreted from the heart, in order to determine how these "cardiomyokines" regulate body weight through inter-organ communication. We also investigate how cardiomyokines are transcriptionally regulated, particularly through the Mediator complex. Collectively, our discoveries will broaden the understanding of the heart's role in inter-organ communication and systemic metabolism. Our long-term goal is to identify new avenues for the prevention and treatment of cardiovascular and metabolic diseases.
Selected Publications:
Poghni P*, Baskin KK*, Iwamoto G, Mitchell JH, Smith SA, Kim HK, Szwada LI, Bassel-Duby R, Fujikawa T, Castorena CM, Richardson J, Shelton JM, Ayers C, Berry JD, Malladi VS, Hu MC, Moe OW, Scherer PE, Vongpatanasin W. High phosphate diet induces exercise intolerance and impairs fatty acid metabolism in mice. Circulation. 2019 Jan 7;139(1).
Makarewich CA, Baskin KK, Munir AZ, Bezprozvannaya S, Sharma G, Khemtong C, Shah AM, McAnally JR, Malloy CR, Szweda LI, Bassel-Duby R, Olson EN. MOXI Is a Mitochondrial Micropeptide That Enhances Fatty Acid b-Oxidation. Cell Reports. 2018 Jun 26;23(13). PMID: 29949755, PMCID: PMC6066340
Baskin KK, Makarewich CA, DeLeon S, Ye W, Chen B, Beetz N, Schrewe H, Bassel-Duby R, Olson EN. MED12 regulates a transcriptional network of calcium handling genes in the heart. Journal of Clinical Investigation Insight. 2017 Jul 20;2(14). PMID: 28724790, PMCID: PMC5518564
Zhang Y, Long C, Hui L, McAnally JR, Baskin KK, Shelton JM,l Bassel-Duby R, Olson EN. CRISPR-Cpf1-editing corrects mutations in the mouse model of Duchenne muscular dystrophy and hiPSC-derived cardiomyocytes. Science Advances. 2017; 3(4) e1602814. PMID: 28439558, PMCID: PMC5389745
Amoasii L, Holland W, Sanchez-Ortiz E, Baskin KK, Pearson M, Burgess SC, Nelson BR, Bassel-Duby R, Olson EN. A MED13-dependent skeletal muscle gene program controls systemic glucose homeostasis and hepatic metabolism. Genes & development. 2016; 30(4):434-46. PMID: 26883362, PMCID: PMC4762428
Baskin KK, Winders BR, Olson EN. Muscle as a "mediator" of systemic metabolism. Cell metabolism. 2015; 21(2):237-48. PMID: 25651178, PMCID: PMC4398026
Baskin KK, Grueter CE, Kusminski CM, Holland WL, Bookout AL, Satapati S, Kong YM, Burgess SC, Malloy CR, Scherer PE, Newgard CB, Bassel-Duby R, Olson EN. MED13-dependent signaling from the heart confers leanness by enhancing metabolism in adipose tissue and liver. EMBO molecular medicine. 2014; 6(12):1610-21. PMID: 25422356, PMCID: PMC4287978
Baskin KK, Bookout AL, Olson EN. The heart-liver metabolic axis: defective communication exacerbates disease. EMBO molecular medicine. 2014; 6(4):436-8. PMID: 24623378, PMCID: PMC3992070
Kwartler CS, Chen J, Thakur D, Li S, Baskin K, Wang S, Wang ZV, Walker L, Hill JA, Epstein HF, Taegtmeyer H, Milewicz DM. Overexpression of smooth muscle myosin heavy chain leads to activation of the unfolded protein response and autophagic turnover of thick filament-associated proteins in vascular smooth muscle cells. The Journal of biological chemistry. 2014; 289(20):14075-88. PMID: 24711452, PMCID: PMC4022877
Baskin KK, Rodriguez MR, Kansara S, Chen W, Carranza S, Frazier OH, Glass DJ, Taegtmeyer H. MAFbx/Atrogin-1 is required for atrophic remodeling of the unloaded heart. Journal of molecular and cellular cardiology. 2014; 72:168-76. PMID: 24650875, PMCID: PMC4037330
Baskin KK, Taegtmeyer H. AMP-activated protein kinase regulates E3 ligases in rodent heart. Circulation research. 2011; 109(10):1153-61. PMID: 21921267, PMCID: PMC3254015
Baskin KK, Taegtmeyer H. An expanded role for AMP-activated protein kinase: regulator of myocardial protein degradation. Trends in cardiovascular medicine. 2011; 21(4):124-7. PMID: 22681968, PMCID: PMC3372865
Baskin KK, Taegtmeyer H. Taking pressure off the heart: the ins and outs of atrophic remodeling. Cardiovascular research. 2011; 90(2):243-50.PMID: 21354996, PMCID: PMC3115281
Razeghi P, Baskin KK, Sharma S, Young ME, Stepkowski S, Essop MF, Taegtmeyer H. Atrophy, hypertrophy, and hypoxemia induce transcriptional regulators of the ubiquitin proteasome system in the rat heart. Biochemical and biophysical research communications. 2006; 342(2):361-4. PMID: 16483544
NCBI link: https://www.ncbi.nlm.nih.gov/sites/myncbi/kedryn.baskin.1/bibliography/40494317/public/?sort=date&direction=descending