Nizar Y. Saad, Ph.D.

Assistant Professor
The Ohio State University Medical School, Department of Pediatrics
Nationwide Children's Research Institute
Principal Investigator, Center for Gene Therapy
700 Children's Drive, Rm. WA2101
Columbus, OH  43205
Phone: (614) 355-2787
Email: nizar.saad@nationwidechildrens.org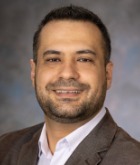 Education & Training:
University of Strasbourg, France, 2011 Ph.D. in Life Sciences (Biochemistry and Molecular Biology)
The Ohio State University, Columbus, OH, 2015 Postdoctoral Fellow, RNA biology
Center for Gene Therapy, Nationwide Children's Hospital, Columbus, OH, 2019 Postdoctoral Fellow, Gene Therapy
Research Interest:
The Saad Lab conducts cutting-edge research to understand the causes of genetic disorders, including neuromuscular diseases, and develops innovative techniques to diagnose, treat and cure these conditions. Specifically, Dr. Saad and his team are dedicated to developing new gene therapy approaches and bringing them to the clinic and to identifying new blood biomarkers for diagnosis, prediction of disease progression and evaluation of therapy effectiveness.
Focus Areas
The identification of novel non-invasive biomarkers by investigating the molecular content of extracellular vesicles found in biofluids such as blood.
The development of viral (adeno-associated virus) and non-viral (extracellular vesicle) based gene therapies for genetic diseases.
The developed approaches are currently focused on microRNA- and CRISPR-Cas-based knockdown therapies. The Saad lab is also developing novel approaches and platforms to enhance tissue specificity, efficacy and potency of viral and non-viral gene therapies.
While the Saad Lab focuses on diseases including facioscapulohumeral muscular dystrophy (FSHD), Duchenne muscular dystrophy (DMD), Emery-Dreifuss muscular dystrophy (EDMD), dilated cardiomyopathies (DCM) with LMNA mutations and progeria, the developed technologies could be applied to other diseases. Dr. Saad and his team hope their discoveries can help a wide range of patients with genetic conditions.
Selected Publications:
Quintero J, Saad NY, Pagnoni SM, Jacquelin DK, Gatica LV, Harper SQ, et al. The DUX4 protein is a co-repressor of the progesterone and glucocorticoid nuclear receptors. FEBS Lett. 2022; 596(20):2644-58.
Saad NY, Al-Kharsan M, Garwick-Coppens SE, Chermahini GA, Harper MA, Palo A, Boudreau RL, Harper SQ. Human miRNA miR-675 inhibits DUX4 expression and may be exploited as a potential treatment for Facioscapulohumeral muscular dystrophy. Nat Commun. 2021 Dec 8; 12: 7128.
Giesige CR, Wallace LM, Heller KN, Eidahl JO, Saad NY, Fowler AM, Pyne NK, Al-Kharsan M, Rashnonejad A, Chermahini GA, Domire JS, Mukweyi D, Garwick-Coppens SE, Guckes SM, McLaughlin KJ, Meyer K, Rodino-Klapac LR, Harper SQ. AAV-mediated follistatin gene therapy improves functional outcomes in the TIC-DUX4 mouse model of FSHD. JCI Insight. 2018 Nov 15; 3:22
Wallace LM, Saad NY, Pyne NK, Fowler AM, Eidahl JO, Domire JS, Griffin DA, Herman AC, Sahenk Z, Rodino-Klapac LR, Harper SQ. Pre-clinical Safety and Off-Target Studies to Support Translation of AAV-Mediated RNAi Therapy for FSHD. Mol Ther Methods Clin Dev. 2018 Mar 16; 8: 121-130.