Federica Accornero, Ph.D.
Associate Professor
The Ohio State University Wexner Medical Center
Department of Physiology and Cell Biology
473 W. 12 Ave
Davis Heart and Lung Research Institute, rm 405C
Columbus, OH 43210
Phone: 614-366-1058
Email: Federica.Accornero@osumc.edu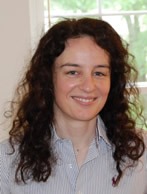 Education & Training:
University of Torino, Italy 2003, BS Biotechnology
University of Torino, Italy 2007, PhD Biology
Cincinnati Children's Hospital Medical Center, OH 2008-2013, Postdoctoral Fellow
Research Interests:
My laboratory studies the mechanisms underlying heart and skeletal muscle diseases, with a primary focus on the role of RNA-binding proteins in regulating the expression of pathologic genes during stress challenges.
One line of work is focused at understanding the function of BEX family proteins. We found that inhibition of BEX1 is protective for the heart and we are now examining the molecular pathways controlled by BEX1, as well as the contribution of novel BEX proteins to cardiac and skeletal muscle pathologies.
A second line of work focuses at understanding the contribution of messenger RNA (mRNA) methylation to muscle diseases. By generating mouse models with affected levels of mRNA methylation we are exploring this uncharacterized phenomenon in cardiomyopathy and muscular dystrophy.
Finally, a third line of work aims at discovering novel aspects of connective tissue growth factor (CTGF) biology and how previously unrecognized molecular interactions underlie CTGF function in regulating tissue fibrosis and inflammation.
Selected Publications:
Accornero F, van Berlo JH, Elrod JW, Sargent MA, York AJ, Rabinowitz JE, Leask A, Molkentin JD. Genetic analysis of Connective Tissue Growth Factor as an effector of Transforming Growth Factor ß signaling and cardiac remodeling. Mol Cell Biol. 2015 Jun 15;35(12):2154- 64.
Accornero F, Kanisicak O, Tjondrokoesoemo A, Attia AC, McNally EM, Molkentin JD. Myofiber- specific inhibition of TGFß signaling protects skeletal muscle from injury and dystrophic disease in mice. Hum Mol Genet. 2014 Dec 20;23(25):6903-15.
Goonasekera SA, Davis J, Kwong JQ, Accornero F, Wei-Lapierre L, Sargent MA, Dirksen RT, Molkentin JD. Enhanced Ca2+ influx from STIM1-Orai1 induces muscle pathology in mouse models of muscular dystrophy. Hum Mol Genet. 2014 Jul 15;23(14):3706-15.
Auger-Messier M*, Accornero F*, Goonasekera S, Bueno OF, Lorenz JN, van Berlo JH, Willette RN, Molkentin JD. Unrestrained p38 MAPK Activation in Dusp1/4 Double Null Mice Induces Cardiomyopathy. Circ Res. 2013 Jan 4;112(1):48-56.* These authors equally contributed
Accornero F and Molkentin JD. Placental growth factor as a protective paracrine effector in the heart. Trends Cardiovasc Med. 2011 Nov;21(8):220-4.
Accornero F, van Berlo JH, Benard MJ, Lorenz JN, Carmeliet P, Molkentin JD. Placental growth factor regulates cardiac adaptation and hypertrophy through a paracrine mechanism. Circ Res. 2011 Jul 22;109(3):272-80.
Kehat I, Accornero F, Aronow BJ, Molkentin JD. Modulation of chromatin position and gene expression by HDAC4 interaction with nucleoporins. J Cell Biol. 2011 Apr 4;193(1):21-9.
Kehat I, Davis J, Tiburcy M, Accornero F, Saba-El-Leil MK, Maillet M, York AJ, Lorenz JN, Zimmermann WH, Meloche S, Molkentin JD. Extracellular Signal-Regulated Kinases 1 and 2 Regulate the Balance Between Eccentric and Concentric Cardiac Growth. Circ Res. 2011 Jul 22;109(3):272-80.
Sbroggiò M, Ferretti R, Percivalle E, Gutkowska M, Zylicz A, Michowski W, Kuznicki J, Accornero F, Pacchioni B, Lanfranchi G, Hamm J, Turco E, Silengo L, Tarone G, Brancaccio M. The mammalian CHORD-containing protein melusin is a stress response protein interacting with Hsp90 and Sgt1. FEBS Lett. 2008 Jun 11;582(13):1788-94.
Brokat S, Thomas J, Herda LR, Knosalla C, Pregla R, Brancaccio M, Accornero F, Tarone G, Hetzer R, Regitz-Zagrosek V. Altered melusin expression in the hearts of aortic stenosis patients. Eur J Heart Fail. 2007 Jun-Jul;9(6-7):568-73.
De Acetis M*, Notte A*, Accornero F*, Selvetella G, Brancaccio M, Vecchione C, Sbroggiò M, Collino F, Pacchioni B, Lanfranchi G, Aretini A, Ferretti R, Maffei A, Altruda F, Silengo L, Tarone G, Lembo G. Cardiac overexpression of melusin protects from dilated cardiomyopathy due to long-standing pressure overload. Circ Res. 2005 May 27;96(10):1087-94.

* These authors equally contributed
My NCBI link: https://www.ncbi.nlm.nih.gov/sites/myncbi/1VuJ5jyEhezks/bibliography/49121342/public/?sort=date&direction= descending