Noah Weisleder, Ph.D.
Professor
The Ohio State University Wexner Medical Center
473 W. 12th Ave
Davis Heart and Lung Research Institute, 611A
Columbus, OH 43210-1252
Phone: (614) 292-5321
Fax: (614) 247-7799
Email: noah.weisleder@osumc.edu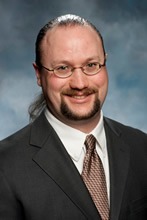 Education & Training:
Worcester Polytechnic Institute, 1996, B.S. in Biotechnology and Molecular Biology
Baylor College of Medicine, 2003, Ph.D. in Molecular and Cellular Biology
Robert Wood Johnson Medical School, 2008, Postdoctoral Fellow in Physiology and Biophysics
Research Interest:
Our laboratory studies several different aspects of skeletal muscle and cardiovascular physiology, principally focusing on changes in plasma membrane repair, cellular metabolism and calcium homeostasis in normal physiology and disease states. We are currently examining how aberrant store-operated calcium handling can contribute to the progression of muscular dystrophy and developing methods to block this calcium entry. Additionally, efforts in heart failure models will determine the mechanisms that contribute to uncoupling of intracellular calcium homeostasis in the failing cardiomyocytes. Further studies examine the role of tripartite motif (TRIM) family proteins in the membrane repair process. Membrane repair is a conserved cellular process where intracellular vesicles actively patch membrane disruptions to allow survival of the cell. While relevant in normal physiology, disruption of this process results in diseases, including muscular dystrophy, ischemic damage to the heart and neurodegeneration. Our group is examining the role of novel TRIM family proteins in regulating membrane repair and how these can be targeted as therapeutic interventions in a number of different diseases.
Selected Publications:
Liu J, Zhu H, Zheng Y, Xu Z, Li L, Tan T, Park KH, Hou J, Zhang C, Li D, Li R, Liu Z, Weisleder N, Zhu D, Lin P, Ma J. Cardioprotection of recombinant human MG53 protein in a porcine model of ischemia and reperfusion injury. J Mol Cell Cardiol. 2014 Dec 20;80C:10-19
Jia Y, Chen K, Lin P, Lieber G, Nishi M, Yan R, Wang Z, Yao Y, Li Y, Whitson BA, Duann P, Li H, Zhou X, Zhu H, Takeshima H, Hunter JC, McLeod RL, Weisleder N, Zeng C, Ma J. Treatment of acute lung injury by targeting MG53-mediated cell membrane repair. Nat Commun. 2014 Jul 18;5:4387. PMCID: PMC4109002
Analysis of osmotic stress induced Ca2+ spark termination in mammalian skeletal muscle. Ferrante C, Szappanos H, Csernoch L, Weisleder N* In J Biochem Biophys. 2013 Oct;50(5):411-8. (* Corresponding author) PMCID: PMC4082817
• Zhao X, Moloughney JG, Zhang S, Komazaki S, Weisleder N*. Orai1 Mediates Exacerbated Ca2+ Entry in Dystrophic Skeletal Muscle. PLoS ONE 2012;7(11):e49862. doi: 10.1371/journal.pone.0049862. Epub 2012 Nov 19. (* Corresponding author) PMCID: PMC3501460
Zhao X, Moloughney JG, Zhang S, Komazaki S, Weisleder N. Orai1 mediates exacerbated Ca2+ entry in dystrophic skeletal muscle. PLoS One. 2012; http://dx.plos.org/10.1371/journal.pone.0049862
Weisleder N, Takizawa N, Lin P, Wang X, Cao C, Zhang Y, Tan T, Ferrante C, Zhu H, Chen PJ, Yan R, Sterling M, Zhao X, Hwang M, Takeshima M, Cai C, Cheng H, Takeshima H, Xiao RP, Ma J. Recombinant MG53 protein modulates therapeutic cell membrane repair in treatment of muscular dystrophy. Sci Transl Med. 2012 Jun 20;4(139):139ra85.
He B, Tang RH, Weisleder N, Xiao B, Yuan Z, Cai C, Zhu H, Lin P, Qiao C, Li J, Mayer C, Li J, Ma J, Xiao X. Enhancing Muscle Membrane Repair by Gene Delivery of MG53 Ameliorates Muscular Dystrophy and Heart Failure in δ-Sarcoglycan-deficient Hamsters. Mol Ther. 2012 Apr;20(4):727-35.
Touchberry CD, Elmore CJ, Nguyen TM, Andresen JJ, Zhao Xiaoli, Orange M, Weisleder N, Brotto M, Claycomb WC, Wacker MJ. Store-operated calcium entry is present in HL-1 cardiomyocytes and contributes to resting calcium. Biochem Biophys Res Commun. 2011 Dec 9;416(1-2):45-50. Epub 2011 Nov 6. PMID: 22130850
Tjondrokoesoemo A, Park KH, Ferrante C, Komazaki S, Lesniak S, Brotto M, Ko JK, Zhou J, Weisleder N, Ma J. Disrupted membrane structure and intracellular Ca2+ signaling in adult skeletal muscle with acute knockdown of Bin1. PLoS One. 2011;6(9):e25740. PMID: 22079292
Yi J, Ma C, Li Y, Weisleder N, Rios E, Ma J, Zhou J. Mitochondrial calcium uptake regulates rapid calcium transients in skeletal muscle during excitation-contraction (E-C) coupling. J Biol Chem. 2011 Sep 16;286(37):32436-43.
Thornton AM, Zhao X, Weisleder N, Brotto LS, Bougoin S, Nosek TM, Reid M, Hardin B, Pan Z, Ma J, Parness J, Brotto M. Store-Operated Ca2+ Entry (SOCE) Contributes to Normal Skeletal Muscle Contractility in young but not in aged skeletal muscle. Aging 2011 Jun;3(6):621-34.
Weisleder N, Takeshima H, Ma J. Mitsugumin 53 (MG53) facilitates vesicle trafficking in striated muscle to contribute to cell membrane repair. Communicative & Integrative Biology. 2009 March/April 2(3):1-2.
Fang H, Chen M, Ding Y, Shang W, Xu J, Zhang X, Zhang W, Li K, Xiao Y, Gao F, Shang S, Li JC, Tian XL, Wang SQ, Zhou J, Weisleder N, Ma J, Ouyang K, Chen J, Wang X, Zheng M, Wang W, Zhang X, Cheng H. Imaging superoxide flash and metabolism-coupled mitochondrial permeability transition in living animals. Cell Res. 2011 Sep;21(9):1295-304
Landstrom AP, Kellen CA, Dixit SS, van Oort RJ, Garbino A, Weisleder N, Ma J, Wehrens XH, Ackerman MJ. Junctophilin-2 Expression Silencing Causes Cardiocyte Hypertrophy and Abnormal Intracellular Calcium-Handling. Circ Heart Fail. 2011 Mar 1;4(2):214-23.
My NCBI Link: http://www.ncbi.nlm.nih.gov/myncbi/browse/collection/41398086/?sort=date&direction=ascending